Smile Zone Calicut
Dental Tourism India Calicut Associate
Discover unrivaled dental expertise combined with elegant, artistic tranquility to nurture and renew your world. SMILE ZONE – The cosmetic implant dental clinic AT Calicut is committed to offer the ultimate and optimal range of general and cosmetic dental services for clients seeking to improve ,renew and rehabilitate not only their smile, but also their overall image and appearance.
Dr.Roshan Khan is a qualified Prosthodontist & Implantologist. Practicing dentistry for over a decade his main interests is in the field of Cosmetic Dentistry and Dental Implants . He has presented various research papers in national and international conferences. He is a regular attendee of post- graduate courses having completed several post graduate programmes both in india and overseas He is currently a teaching faculty in one of the prime dental schools where he teaches prosthodontics exclusively.Member of Indian Prosthodontic Society.
Indian Dental Association,American Dental Association & Indian Academy of Aesthetic and Cosmetic dentistry.
Smile Zone also boasts of a Premium DENTAL SPA. At your appointment, depending upon suitability, you may expect:
A personal MP3/MP4 player with choice of songs for you to listen to your favourite music whilst treatment is being performed.
A personal DVD player with choice of DVDs for you to watch your favourite film whilst treatment is being performed

In-house Aromatherapy
Warm, scented neck pillows to ease your comfort in the dental chair.
Hot/cold scented towels to freshen up at the end of treatment.
Moisturising, paraffin hand wax .
Refreshments of tea, coffee and fruit juices.
Eye masks (hot or cold) to soothe tired eyes.
Blankets are used to protect against the chill of the air conditioning.
These extra comforts are enjoyable for everyone and change people's perception of what it is to have dental treatment.
Gallery
At Dental Tourism India we have a huge list of affiliates and clinics all across India. A strict enrollment policy ensures that we have the highest standards in all over India. Please feel free to browse through various clinics and affiliates. Any queries are welcome at [email protected].
Dental Tourism India Calicut Info
Calicut or Kozhikode is situated in the south Indian state of Kerala on the southwest coast of the Arabian Sea. This city is famous as the nearest town to Kappad where Vasco da Gama, the first European to sail directly from Europe to India, landed in 1498. This legendary port is on the Malabar Coast, near the backwaters of the Kallai River, close to the Wayanad Hills and Mahe.A bustling city and commercial capital of Malabar, Calicut has an International Airport, University, Medical College and prestigious Indian Institute of Management and National Institute of Technology to its credit.
WAYANAD
A discreet hill station located in north western Kerala, Wayanad is set along the higher slopes of the Nilagiri Biosphere on the southern fringe of the Deccan Plateau. The region is a part of the UNESCO World Network of Biosphere Reserves in India and Wyanad's evergreen forests mark the transition zone between the northern and southern eco regions of the Western Ghats. This is the most species-rich eco region in peninsular India with eighty percent of the flowering plant species of the entire mountain Wayanad is ideal for travelers with a passion for the outdoors. The landscape is majestic, composed of rugged, lofty ridges interspersed with dense forests, deep valleys, spectacular waterfalls and mountain streams. Numerous outback trails and trekking routes snake through the forests with many spots ideal for adventure sports. Visitors will also find delight in the dazzling profusion of flora and fauna endemic to the Western Ghats. Wayanad is home to many
ancient, indigenous nomadic tribes who still practice their age-old customs and rituals. The forests also contain the fascinating Edakkal Caves, a Neolithic cave dwelling with Petroglyphs, the only known example in South India and a protected UNESCO Heritage Site.range found here.
| | |
| --- | --- |
| Location | North-eastern Kerala, among the mountains of the Western Ghats |
| Significance | Popular for scenic as well as spiritual beauty |
| Climate | Hot summers and tropical monsoons; temperature varies from 20 to 35°C |
| Best Time To Go | August to May |
| Must Visit | Eco Resorts, Rain Forests, Pookot, Kalpetta |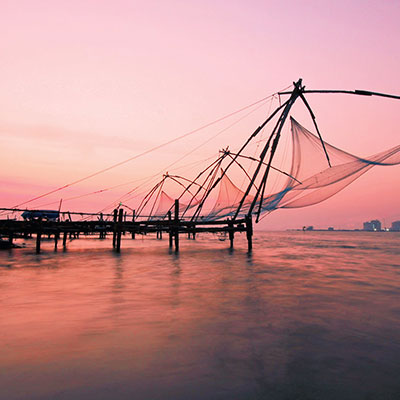 Travel to Waynad, the city that entices its tourists through its scenic beauty. One must travel this place to explore the culture and ethos. Wayanad means the land of paddy fields. It contributes about 36 percent of the tribal population of the state. The high altitude of the city is characterized by the cultivation of perennial plantation crops and spices. The majorplantation crops include coffee, tea, pepper, cardamom and rubber.
History
In ancient time the land was ruled by the Vedar Rajas. Royal Dynasty of Kannur held rights to the land in early 18th century. It had done its campaigning in the Malabar Coast. Pazhassi Raja ruler of Kurumbranadu helped the British in their fight against Tipu Sultan. In 1979 after the fall of Tipu, the British took over Wayanad. The state of Kerala came into form in the year 1956. The present Waynad district came into existence on Nov 1, 1980.
Wayand Prominent Attractions

Eco Resorts
Wayanad is a place known for its tranquility. Its blossoming nature and enthralling ambiance is sure to leave you enchanted. The effervescent beauty and enriched natural aura of Kerala has inspired travellers from generation to visit the various destinations in Kerala. The beautiful Eco-Resorts in Kerala are the most loved holiday destinations.
Set in the scenic mountains of Kerala it is one of the most popular among the tourists. The Eco-Resorts features a distinct charm of its own. The Tree Houses in Wayanad are usually found in the forests surrounded by coffee, tea, pepper and cardamom plantations. These Tree Houses are made of wood. The other raw materials used to built these houses are coir mats, hay straws, bamboo poles etc. The natural pathways lead to beautiful spots with spectacular view of the valley. One can also view abundance of flora and fauna. Stay in these Tree Houses in Wayanad is an experience in itself.
goto topAsk For Suggested Tour
Rain Forest
The Western Ghats is a swaddle of green running parallel to India's western coastlineextending to the south. The area covers barely 5% of India's landmass, but about a third is the plants. One can tour to these pristine areas from silent valley to Kodai Kanal to see the last remaining tract of the shoal rain forests. In the midst of a massive rain forest lies a little slice of plantation life.
Nature lovers can see orchids and plantation crops like coffee, cardamom, pepper and vanilla grown originally in the shade of rain forest trees. Most of the springs and mountain streams here are perennial and don't dry up even during the height Indian summer. The trail is quite slippery because of the ground being covered by a thick layer of fallen leaves.
Jungle Activities
Wayanad Wildlife Sanctuary was established in 1973. Rich in biodiversity, the sanctuary is an integral part of the Nilgiri Biosphere. From here that Pazhassi Raja fought valiantly against the British. The deciduous forest comprises Maruthi, Rosewood, Venteak, Bamboo etc. The animal population of the sanctuary comprises elephant, tiger, panther, jungle cat, civet cat, monkeys, and wild dog which inhabit the sanctuary. Reptiles and a variety of snakes are seen. Peacock, cuckoos, owls, wood peckers can also be spotted in the area. One can set out on a jungle trip that includes jeep safaris, elephant safaris and trekking. The sanctuary is quite rich in flora and fauna. Nagarhole and Bandipur National Parks are also located at a close proximity.
Ambukuthy Hills
The two rock caves at Ambukuthy Hills, 12 km south of Sultan's Bathery, contain ancient carvings and pictorial writhing with human and animal figure. They speak of a highly civilized people at an early centre of human habitation.
Edakkal Caves
Wayanad offers an insight into the interesting and picturesque topography of Edakkal caves. The word Edakkal refers to a situation when a stone is placed in between two other rocks. This reflects the strange position of one large stone jutting out of two rocks and in a way getting their support in a manner that it works as a natural shelter and as a place for the artistic expression.
Thirunelly Temple
This marvel of temple architecture is shielded with 30 granite columns and the ground is paved with huge pieces of granite. This ancient Hindu temple is more than 3000 years old and is devoted to Lord Vishnu. There is a bridge from thePapanashini stream coming to the temple. In the southern side of Thirunelly temple there is a pond called Pancha Theertha.
Pookot
This natural fresh water lake, surrounded by evergreen forests and mountain slopes, is a haven for peace seeking travellers. It lies 3 km south of Vythiri town and is a wonderful place to spend lazy afternoons and enjoy boating.
Chembra Peak
This is the tallest peak in Wayanad district and offers a perfect route for trekkers.
Shopping
Despite of being a small town, Wayanad is a nice place to buy good quality handicrafts and a variety of spices at reasonable rates. As the town has a number of coffee, tea, cardamom, pepper and rubber plantations, you can buy fresh quantities of these items as well.
Getting There
By Air: Kozhikode airport is located at a distance of about 25km from the centre of the city.
By Rail: Calicut is the nearest railway station from Wayanad region-62 km from Vythiri.
By Road: The city is well connected by road to almost all the parts of Kerala and a number of major destinations in India.
MAHE
Mahe is an attractively old-fashioned town located 58 km north of Kozhikode, intersected by River Mahe. The town has a distinct French flavor which is not lost till date. It was earlier known as Mayyazhi but was named after "Mahe", a Frenchman who captured it. Those willing to learn fine arts forms like dance, music, sculpting, yoga, and meditation can come to the Malayalam Kalagramam in Mahe. St. Teresa's Church, one of the oldest churches in the Malabar region, is another destination that you can visit.
BYPORE BEACH
Nature will embrace you in its arms on the calm shore shores of this beach. The endless Arabian Sea laps at your feet as you stand on the soft sands watching the sunset.A unique thing in this beach is the 2-kilometer long stretch of land that reaches out in the sea. The path is made up of huge stones and rocks and opens out in the Sea. One can always take a walk on this path and feel rejuvenated like never before.Learn the traditional handweaving techniques which is world renowned. TASARA -an Institution dedicated to creative weaving, is situated In Beypore, a village in Kerala. on the west coast of India.Nearby attractions in Beypore include the fishing harbour, hardly a kilometre from the shipbuilding yard and Kadalundi Bird.
KAPPAD BEACH
Kappad Beach is 20 kms from Calicut (Kerala, India). This is a quaint little fishing village has exquisite beach with fascinating rock formation and breath-taking scenic beauty.It is one of the most charming of Kerala's beaches. Kappad finds mention in history as the gateway to the Malabar coast. Here, 501 years ago, 170 men led by the Portuguese navigator Vasco da Gama (1460-1524) sailed in and stepped into Kerala to create a new chapter in history. The story of a long and tumultuous socio-political relationship between India and Europe. It was the spices and wealth of Malabar that first brought the Arabs, the Phoenicans, the Greeks, the Romans, the Portuguese, the Dutch and the English to Kerala. Kappad has witnessed many such landings.This little sea faring town is a heaven