DR.SWATI AGARWAL JAIPUR
Welcome to the clinic of Dr. Swati Agarwal, a dental care practice in Jaipur, India. The clinic understands the importance of good dental hygiene, oral care & is committed to providing you the best dental care in a hygienic & pleasant environment.

From common problems to complicated cases, the clinic provides an array of dental services to meet your needs all in one convenient location. Using the latest technology, Dr. Swati & the staff works together as a team to give you exceptional quality treatment from the time you walk in for your initial visit.
Dr. Swati Agarwal is one of the experienced dentists in Jaipur, Rajasthan. She has been practicing dentistry since August 2005 & is dedicated to fulfill her patients dental needs. She believes in treating her patients on an individual basis because she believes every patient has different needs & expectations. And therefore, feels that all treatment should be customized according to those needs.Dr. Swati Agarwal is a very caring, dedicated & ethical professional. She stays at the forefront of her field & shows her commitment to the excellence by attending numerous continuing education courses. Her approach to the treatment starts with patiently listening to the patient. Then, after a complete & thorough examination, she reviews & discusses the diagnosis & treatment options with the patient.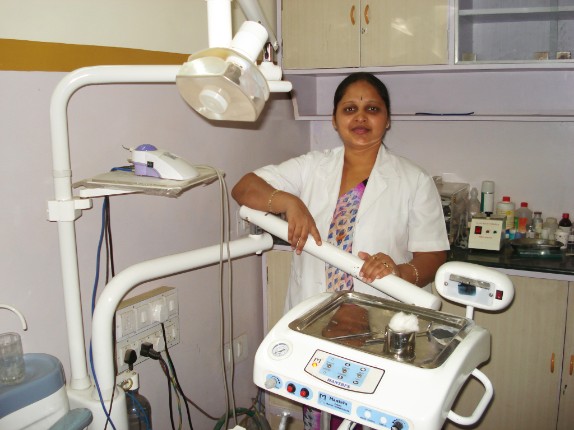 We thank you for your interest in our services & the trust you have placed in Dr. Swati Agarwal. Pleasecontact her, if you have any questions.
Services Offered:
Fixed Crown & Bridge

Root Canal Treatment

Orthodontic Treatment

Complete & Partial Dentures

Ultrasonic Scaling & Root Planing
SADHANA HOSPITAL

Parivahan Nagar, Sirsi Road

Khatipura, Jaipur – 302 012 Rajasthan [India]

+91-141-320-8180 (Enquiry & Appointments)

+91-141-223-3955 (Emergency)
MOBILE:
+91-931-450-7174 (24 Hours Helpline)
+91-921-432-8682 (Appointments ONLY)